What is a blog? I'm assuming you are here because you've heard the term "blog" (which is short for "weblog") many times before and was wondering what it's all about. Well, you've come to the right place!
This article will explain the definition of a blog, what makes it unique from a regular website, and a brief history of how the first blog was born.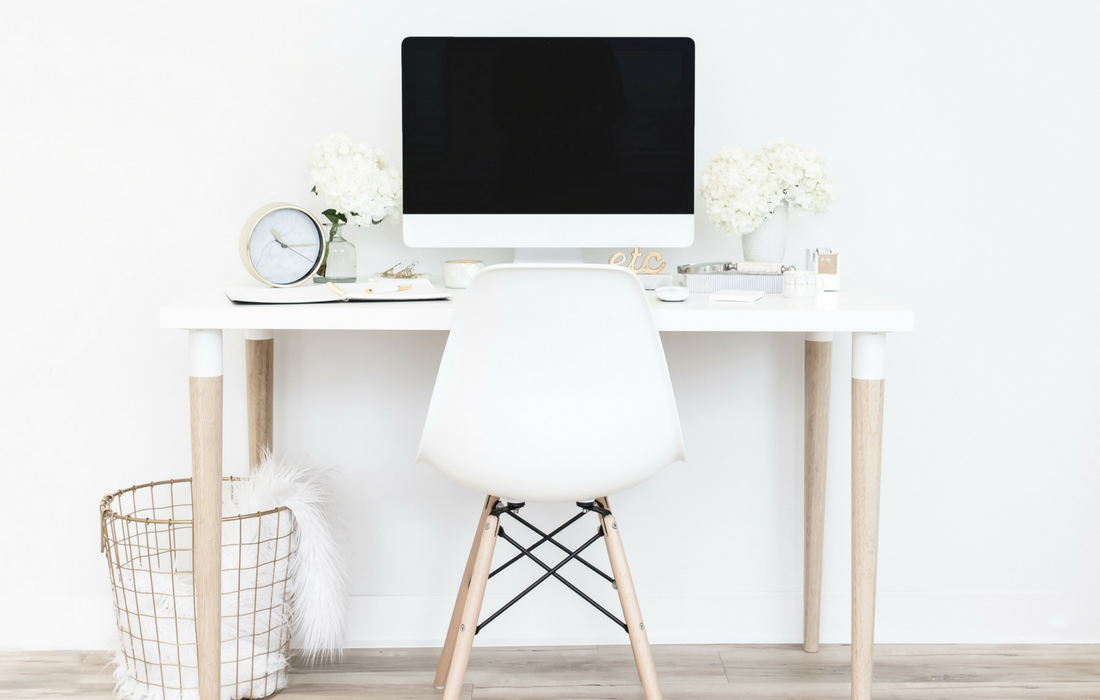 *This post contains affiliate links. Please read my full disclosure policy for further details.
I know some of you might be thinking why even write an article like this, everyone knows what a blog is. That is actually so far from the truth. Heck, when I started blogging back in 2014, I barely understood what it was.
There are a ton of people of all ages who still don't understand what it is and may not even care.
They search the internet for information they need, land on a web page and don't give a crap whether it's a blog or not.
They just get the information they need and don't think twice about it.
I think many who do not understand what a blog is, just assume that everything on the internet is a website. Which they are technically right but there is more to it than that.
Hopefully, this article will clear things up for those of you who don't know exactly what a blog is.
Pin it to save for later!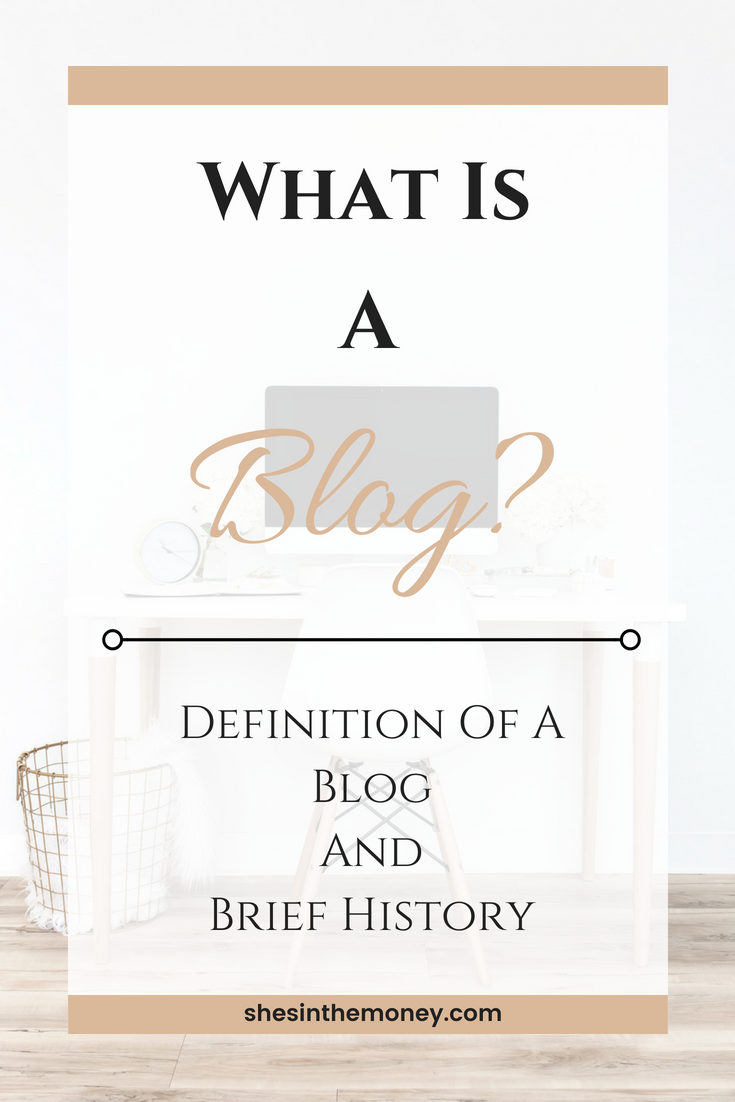 What Is A Blog?
If you've ever searched for something on the internet you at some point most likely ended up on a website reading a blog post. And guess what? You are reading a blog post right now!
Basically, a blog is a website that provides information published on the world wide web.
Blogs are usually updated on a regular basis and are typically run by an individual referred to as a "blogger" or sometimes they are run by a small group of people, business, or organization.
A blog is an outlet where you can share your personal thoughts or educate others on things you have learned. It is a flexible content sharing platform that allows you to showcase your passion, knowledge or your skills.
Characteristics Of A Blog
Blogs are usually, but not always written on a particular subject, called a niche.
A blog will have some form of navigation bar that contains menus.
It will contain an About Me page.
You will find social network sharing buttons so visitors can share a blog post anywhere such as Facebook, Pinterest, or Twitter.
A blog's layout will contain a header, footer, content, and sometimes a sidebar.
Blog posts are usually placed on the homepage in reverse chronological order so that the most recent blog post will appear first at the top of the web page.
These blog posts will often consist of journal or diary style text entries, links to other posts on your blog or other websites, photographs and sometimes even videos.
Most of the time blogs are written in an informal or conversational style.
The end of blog posts commonly has a comment section in order to start a conversation or interact with others.
Why Do People Blog/Why Is Blogging So Popular?
People blog for a variety of reasons whether it be personal, professional, or to make money. Did you know that blogging is one of the best ways to make money online?
I started off with my beauty blog Electric Eye Beauty in 2014 and in 2018 I launched She's In The Money. I now teach others how to start a blog and make money blogging. I make a full time income per month with my blogs working from home.
Related Article: Should I Start A Blog? (8 Reasons You Should Start One Today)
Blogs and Websites
Many people wonder what the exact difference between a blog and a website is. A blog is a type of website, but a website is not always a blog. Confused yet?
Basically, everything you visit on the internet that has a URL/domain (an address on the world wide web) is a website that you view content on.
Regular websites consist of content on static pages, meaning that these pages are unchanged.
Blogs require frequent updates and encourage reader engagement. Key elements that identify a blog post from a static page include an author, publishing date, categories, tags, and social sharing buttons.
Regular Website
Content is static
Formal/professional
Interaction with visitors does not exist
Communication about products or services
Examples: bluehost.com, swagbucks.com, shutterstock.com
Blog (Type of Website)
Regularly updated content
Somewhat informal/conversational style
Encourages interaction with readers
Provides information
Example: shesinthemoney.com
Blog History
The modern blog has evolved from an online personal journal where people would keep a running account of their personal lives to share with family and friends.
In 1994, a man named Justin Hall, who was a student at Swarthmore College started a web-based diary. His website can be found at Links.net, and as of the end of 2017, he was still posting regular updates. Although other forms of online journals also existed, New York Time's Magazine referred to Hall as "the founding father of personal blogging".
A couple of years later in December of 1997, a man named Jorn Barger coined the term "weblog" to describe the process of "logging the web". He posted daily entries to his Robot Wisdom Weblog in the hope of finding "an audience who might see the connections between his many interests".
In April or May of 1999, Peter Merholz jokingly broke up the word "weblog" into the phrase "we blog" in the sidebar of his blog Peterme.com, coining the term "blog".
Shortly thereafter in August 1999, Evan Williams, who co-founded Pyra Labs launched a blog publishing service called Blogger. He used the word "blog" both as a noun and a verb, leading to the popularization of the terms.
Blog usage had a slow start, but begin rapidly growing in popularity in the following years. In the early 2000's political and news source blogs became increasingly mainstream, followed by in-depth topic and how-to blogs.
Fast forward to today, and now it seems like everyone and their brother has a blog. In fact, it's the majority where people get their information from when searching the internet.
Final Thoughts
Has this article helped you now understand what a blog is? If so, does starting a blog seem like something you would like to do? You can read my blog post on How To Start A Blog that has an easy step-by-guide for beginners. Questions or comments? Start a conversation below!
---
✨If you are new to my blog, my main focus here is to help you make and save more money. One of the best ways I have found to make extra money online is by starting a blog.
I love helping other people with tips and tricks on how to build a blog.
You can start a blog for as low as $3.95 per month plus you get a FREE domain name if you sign up here through Bluehost.
Be sure to check out my Resources page for all the products and services that I use and love! Thanks for reading!✨