More and more people nowadays are looking for work at home opportunities. Although, becoming a courthouse researcher is not a work "at" home opportunity necessarily, but more like a work "from" home opportunity.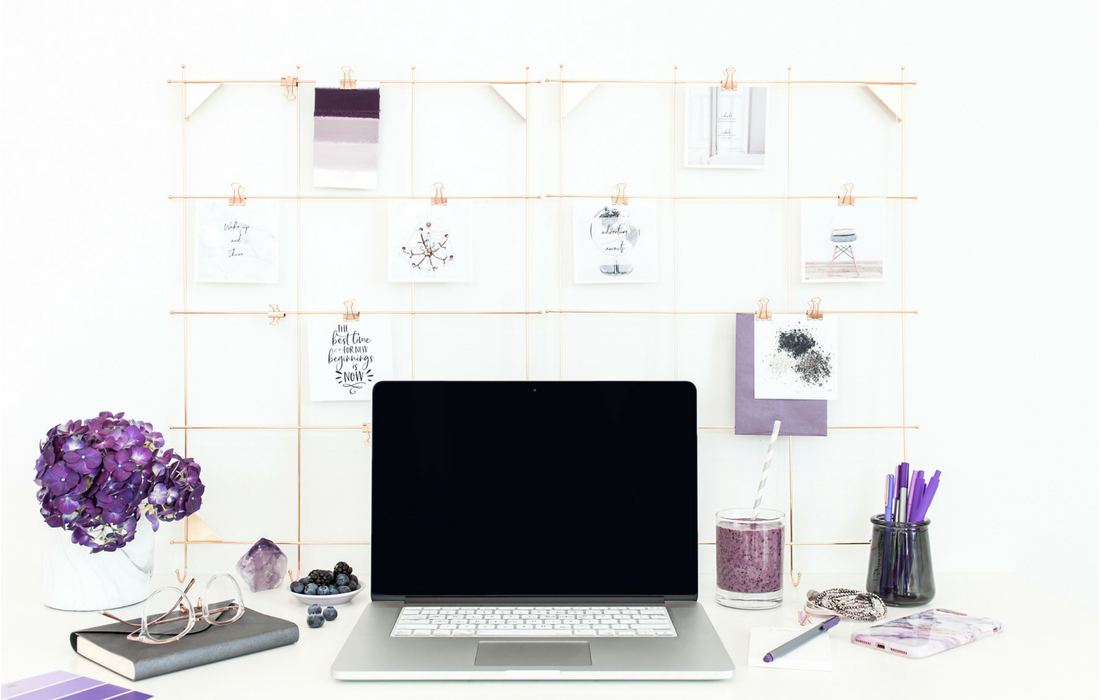 *This post contains affiliate links. Please read my full disclosure policy for further details.
Even though some county records are available online you will not be able to access everything you will need. So this means you will have to make an actual trip to your courthouse or county office building.
So even though you don't have an office to go to, you still have to travel to get the work done.
Which is still is not a bad opportunity for a side hustle. If you don't mind typing then this is a great option for you to make a good part-time income. Read on to find out what it is all about.
Pin it to save for later!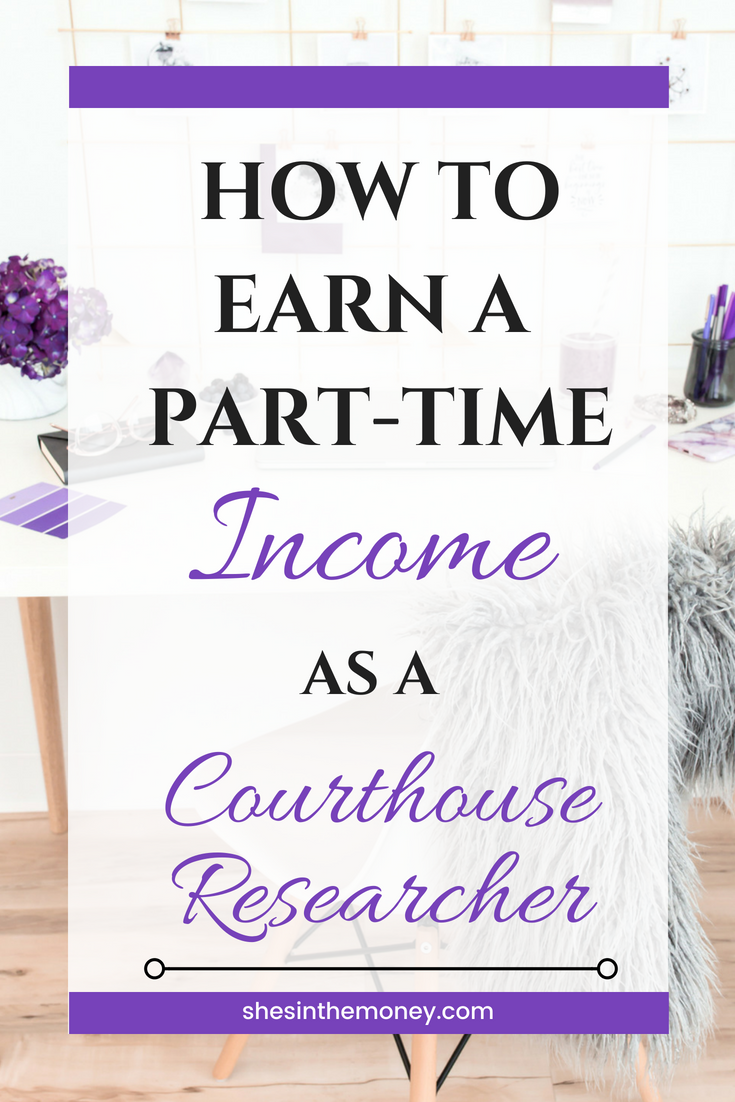 What Does A Courthouse Researcher Do?
As a courthouse researcher, you will be an independent contractor. Meaning you will not be an employee of any of the companies you apply to. If you make over $600 with them, you will be issued a 1099 at tax time.
As a courthouse researcher, you will visit your local courthouse or surrounding area courthouses and collect public information from the records.
Do I Need Any Special Skills?
You don't necessarily need any college degree or special skills to do courthouse research, and there are many companies that will hire you whether you've ever done this type of work or not. If you are a beginner, they will help you learn to get started. However, there are some companies that may prefer to hire experienced researchers.
You will need a laptop and will definitely help to have fast and accurate typing skills.
Getting familiarized with the county computer systems and where they keep their records will be necessary. Also, learning the different types of documents you are retrieving information from will help you perform your job faster.
How Much Can I Make As A Courthouse Researcher?
Most of these companies pay you for accurate records submitted within a specific deadline. You are usually paid per accurate record, not hourly. So those fast and accurate typing skills will be helpful in making more money.
Obviously the faster you type the more you will make. Many courthouse researchers will end up making somewhere between $15-$20 per hour.
But this will really depend. If you have no experience at all, you will probably make less in the beginning until you become familiar with what you are doing.
How Do You Search For Records?
This will depend on what county and what state you are in. From my experience in my area, most counties have their current information on their computer system, while older records are in big heavy books. More and more counties are now putting their old records into the computer system but this will take a lot of time so it may not happen for a while.
When Can I Work?
Since you will be required to go physically to the courthouse, you can only go when they are open and that will depend on what area you are in. County offices are usually only Monday-Friday, and depending on your area, the hours in my state are 8:30-4:30.
Is This Legal?
All information that you are requested to collect is public information. Anyone can go to the courthouse to look this information up.
Why Do Companies Want This Information?
Depending on what their clients are requesting, you could be collecting information for background checks or possibly gathering addresses for marketing purposes.
Do You Visit Different Courthouses?
You can if you want! Remember the more counties you offer to work at, the more money you can make. You will need to take in consideration gas money and time to get out there to make sure it is worth it.
My closest courthouse is ten minutes away but the next closest is 30 minutes, then 45 minutes for the next, then one hour for the further ones out.
If you are unsure where your county courthouses are located you can google a county map by state to see what counties are close to you and then just google that county with the word courthouse after to find the addresses. Then you can determine if you want to offer to work in those areas.
Can I Bring My Kids With To The Courthouse?
Technically you can, but I would highly advise against it. Even though you are an independent contractor, as a courthouse researcher you are still performing a job. This is work and you don't bring your kids to your day job, do you?
This will not be a quick trip, you will be there for many hours. Unless you're in a bind and your kids can be well behaved, just don't do it.
There are other people and/or businesses trying to work as well and they will not appreciate the disturbance if your kids are causing a ruckus.
If this won't work for you because you don't have someone to watch your kids while you work you could consider starting a money making blog. This will not require you to go anywhere so you can do it from the comfort of your own home while your kids are there!
Starting a blog has single-handedly become make favorite side hustle and believe me I have tried them all!
Related Article: How To Start A Blog (Easy Step-By-Step Guide For Beginners)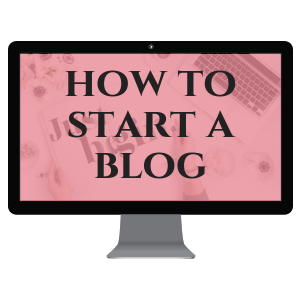 Courthouse Rules
Keep in mind each courthouse has a different set of rules. Most courthouses near me will not let you bring in your cell phone. There might be issues with bringing in laptops as well and therefore you will have to write all the information down and then when you get home input that information into your computer. You will need to call each one to find out the specifics.
You also might be wondering if they have public outlets to charge your laptop. Again you will have to ask each specific office you are in. I know some will frown upon that so you might have to find some sort of portable and/or car charger.
Most don't let you bring food, some don't even let you bring drinks.
Where Can I Apply?
First, you will need to visit these websites and review the application process. Some websites will show the areas they need researchers in others may not. Be aware that these companies may already have enough people in your area so you may not be able to get work. But keep in mind, people have career changes and then you may become next in line.
First National Acceptance Company Deed Collector
Another way to find work as a freelance courthouse researcher is by registering on the NARA (National Archives and Records Administration) Researchers For Hire directory as an independent researcher.
Can I Work For Multiple Companies?
Yes, you are an independent contractor. Per IRS guidelines and regulations, companies cannot restrict you from working for multiple companies at the same time. Most will ask that you don't share the information you collect for one company with another.
Final Thoughts
I hope this information has helped you learn a little more about what being a courthouse researcher entails. Have you had any experience with working for one of these companies or do you have one to add to the list? Let me know in the comments below. Thanks for reading!