If you're a blogger, chances are you know how important it is to be active on all the big social media platforms, including Instagram.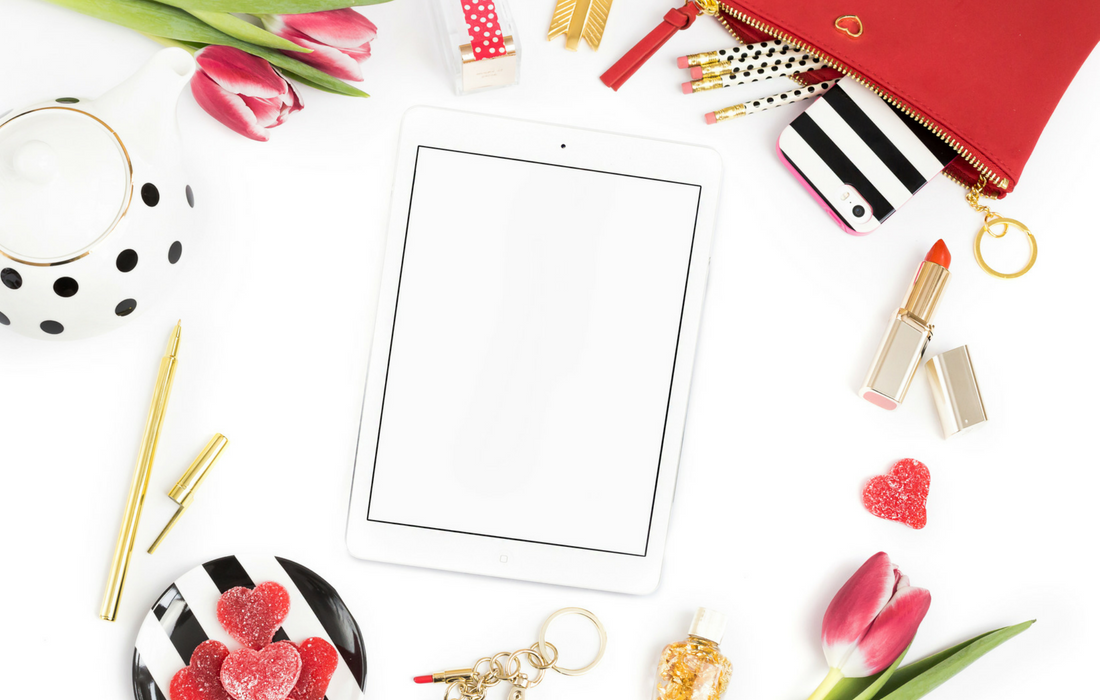 *This post contains affiliate links. Please read my full Disclosure Policy for further details.
Instagram is a great and effective way to drive traffic to your blog and grow your following.
If you've spent any amount of time on there, you may have noticed how hard it is to gain active and engaged followers. By active and engaged, I mean followers who actually like and comment on your pictures.
So, how do you increase your likes and get interested people to follow you? The answer is by using HASHTAGS.
Hashtags are the secret to organically growing your Instagram account.
They are the simplest way to organize the endless amount of information posted on social media so that you're only seeing what you find relevant.
Pin it to save for later!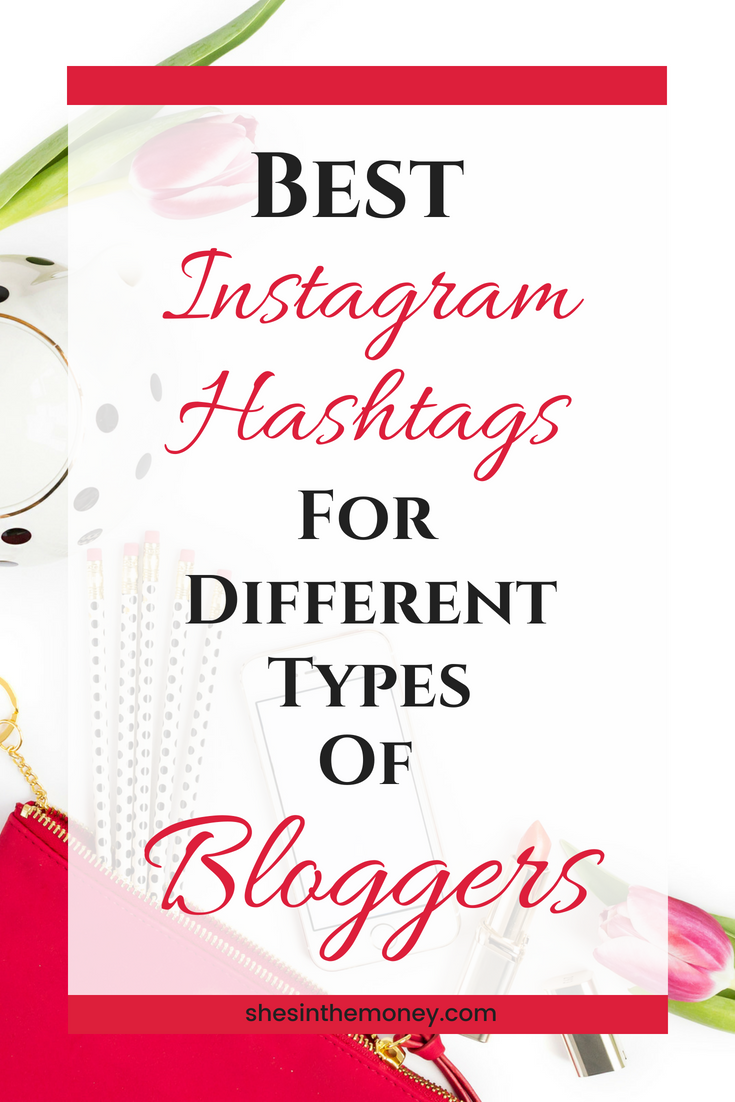 How To Get The Best Use Out Of Hashtags
Instagram allows up to 30 hashtags per post. I would suggest only using 10 per post or else you could potentially be flagged as a spammer.
Try not to use the same hashtags on every post. Tailor them to each post so they are relevant.
Set aside time each day to interact with other posts that use your favorite tags. Liking and commenting on other posts in your niche is a great way to boost engagement. Many people will like and comment back or may even give you a follow.
Use Tailwind to schedule your posts in advance so you don't have to worry about them!!
Using hashtags on Instagram is an important part of every blogger's social media strategy.
Click To Tweet
Best Instagram Hashtags For Bloggers
Here are my lists of popular hashtags organized by blog niche.
Beauty Blog
#beauty, #beautyblog, #beautyblogger, #beautyblogging, #beautyblogcoalition, #beautybloggersforum, #beautybloggerlife, #beautybloggersclub, #beautybloggersdaily, #beautybloggerscircle, #beautybloggerfeature, #beautyguru, #beautycare, #instabeauty, #makeup, #makeupblogger, #bblog, #beautypost, #bblogger, #beautyjunkie, #hairgoals
Crafting Blog
#craftblog, #craftblogger, #craftblogclub, #craftersofinstagram, #crafternoon, #heytheremaker, #feelingcrafty, #craftymom, #crafty, #craftersgonnacraft, #craftroom, #craftygirl, #crafts, #craftaholic, #createmakeshare, #craftsposure, #handmadeisbest, #makersofinstragram, #modernmaker, #meetthemaker, #handmadebusiness, #makersvillage, #waketomake, #creatorslane, #wemakecollective, #makersmovement, #makerslife, #thehandmadeparade
Fashion Blog
#fashion, #fashionblog, #fashionblogger, #fashionista, #fashiondesigner, #fashionable, #fashiondiaries, #fashiongram, #fashionstyle, #fashionpost, #fashionaddict, #fashioninspo, #fashionoftheday, #fashionphotography, #fashionlover, #fashiondaily, #fashiontrends, #styleblogger, #fashionweek, #outfitoftheday, #styleoftheday, #instastyle, #lookoftheday, #influencer, #ootd
Fitness Blog
#fitnessblog, #fitnessblogger, #fitnessbloggers, #fitnessbloggin, #fitnessmotivtation, #fitnessblogging, #fitnessgram, #fitnesstips, #bestversionofyourself, #fitnessguru, #fitfamlife, #fitnessjunkie, #workoutflow, #fitnessphysique, #fitnessforlife, #fitnesspro, #fitnesspageforall, #fitnessinpiration, #fitnessfreaks, #fitnesslifstyle, #fitnesslover, #fitnessjourney, #fitstagram
Food Blog
#foodblogger, #foodblog, #foodblogging, #foodblogfeed, #foodbloggerlife, #foodbloggersofinstagram, #foodblogeats, #foodbloggerpro, #foodblognation, #foodbloggerfeed, #foodpost, #foodoftheday, #foodphotography, #fooddiary, #foodporn, #foodlove, #foodpassion, #foodpics, #foodgram, #foodie, #instafood, #foodforlife, #foodiesofinstagram, #foodfoodfood, #foodisbae, #foodislife, #foodography, #foodshare, #eeeeats, #foodgawker, #feastagram, #eatingfortheinsta, #bestfoodworld, #forkfeed, #seriouseats, #feedfeed, #droolclub, #todayfood, #beautifulcuisines, #buzzfeast
General/Lifestyle Blog
#blog, #bloggers, #bloggerstyle, #instablogger, #blogging, #blogstyle, #bloggergirl, #bloggerlove, #blogged, #blogspot, #bloggersgetsocial, #bloggingtips, #problogger, #problogging, #blogpromtion, #bloggerlife, #newblogger, #lifestyleblog, #lifestyleblogger, #lifestyleblogging, #lifeblogger, #bloggerlifestyle, #blogginggals, #bloggergirl, #thehappynow, #ontheblog, #thatsdarling, #darlingmovement, #petitejoys, #livecolorfully
Mommy Blog
#mommyblogger, #mommyblog, #mommyblogging, #mommybloggerlife, #mommyblogdiaries, #mommybloggersofinstagram, #momblog, #bloggermom, #familyblogger, #mamablogger, #bloggermama, #mommylife, #momblogger, #instamommy, #momlifeisthebestlife, #momswhoblog, #momsofig, #momsofinstagram, #momlifestyle, #instamamas, #instamamagang, #parentingblog, #parentingblogger, #momitforward, #parentinglife, #parentblogger, #motherhoodthroughinstagram, #motherhoodunplugged #parenthood, #raisingkids, #igbabies
Travel Blog
#travel, #travelblogger, #travelblog, #travelblogging, #travelphotography, #traveling, #travelgram, #traveler, #travelholic, #travelguide, #travelbag, #travelbook, #travelingram, #travelbug, #travelphoto, #travelandlife, #traveladdict, #traveldiaries, #travellife, #travellover, #travelgoals, #travelwithme, #travelgirl, #travelworld, #travelwriter, #travelphotos, #travelmore, #travelporn, #traveljunkie, #travellove, #travelislife, #instatravel, #traveltheworld, #igtravel, #tourist, #ilovetravel, #travelguide, #traveltips, #traveladdict, #wanderlust, #travelnow, #globalwanderer, #adventureseeker, #travelpassion, #seetheworld, #borntotravel, #shetravels
Final Thoughts
If you want to grow your followers and increase your engagement do not overlook the strategy of using Instagram hashtags. I hope this list helps some of you.
If you have a different type of blog than the ones listed above and need some hashtag ideas let me know in the comments below. I will be happy to add them to the list for you.
---
✨If you are new to my blog, my main focus here is to help you make and save more money. One of the best ways I have found to make extra money online is by starting a blog. I love helping other people with tips and tricks on how to build a blog.
Be sure to check out the Blogging Tools section on my Resources page to see all the products and services I recommend to help you with starting your blog.✨